I. 12 Crazy Weeks
It's been an enormously informative 12 weeks, to say the least. I came into this class with a picture of social media as a sort of monolithic instrument for procrastination and avoiding personal interaction. I had a proclivity towards the sort of the one-dimensional demonization of social media that we saw in Turkle's Ted Talk. That changed fast. Shirky's immensely-insightful first chapter of Cognitive Surplus served to subvert my totalizing picture of social media and show me how much human creativity has been released and enabled to flourish since the world became digitally connected.
After Shirky, we jumped into an array of strategies that produced the tech behemoths that we know and love today, speculated about the future of our favorite digital platforms, and earnestly discussed the dark sides of the tools that are bringing the world together. We were also fortunate enough to see a hell of a lot of development first hand, whether it was Trump proving Twitter's viability, Facebook's fake news challenges, exploding phones, self-driving cars, or Google definitively throwing its hat into the mobile and AI rings.
Reflecting on these events while simultaneously learning about the wider theoretical framework that surrounds social media entrenched my understanding of the concepts that we were learning and provided sort of real-time evidence for and against theories that we discussed in class. Additionally, the challenge of remaining embedded in social media through blogs and Twitter discussions provided a more hands-on avenue for me to reflect on developments as they unfolded and realize the pros and cons of each platform.
II. Key Takeaways and a Regret
Clearly, there was a lot of ground covered this semester, enabling us to jump down just about any digital rabbit hole we found compelling. I came in hung up on questions of social media's abstract value in our everyday lives. After Shirky made the value proposition clear, however, I quickly found myself gravitating towards the corporate strategy side of things. It was fascinating to learn about the ideas that precipitated revolutionary firms, like Ali Baba and Facebook, and buttress those discussions with the challenge of actually getting businesses off the ground and monetizing. This side of things was made particularly salient as we watched some of tech's biggest names strategically pivot in big ways, like Snap's move to the hardware (and maybe public) market.
When it comes to not-so-revolutionary tech startups, I found the long tail of tech innovation to be just as fascinating as the names we know and love. People can make a living from geeking out on their favorite topics via online newsletters, and savvy app-designers reap meaningful rewards from the torrents of data that these niche communities provide. In other words, making the pamphlet, something that has been around since the invention of the printing press, more-efficient has wrought a huge amount of economic value. Other companies, like the startup that a peer's presentation discussed, are using sophisticated AI technology to revamp something as mundane as our personal calendars and seem to be in a position to realize big rewards. People are even making lifestyle businesses by live streaming themselves eating. The world is an insanely interesting place, and people who are able to leverage common denominators both big and small seem to be in a position to do phenomenally well in digital business.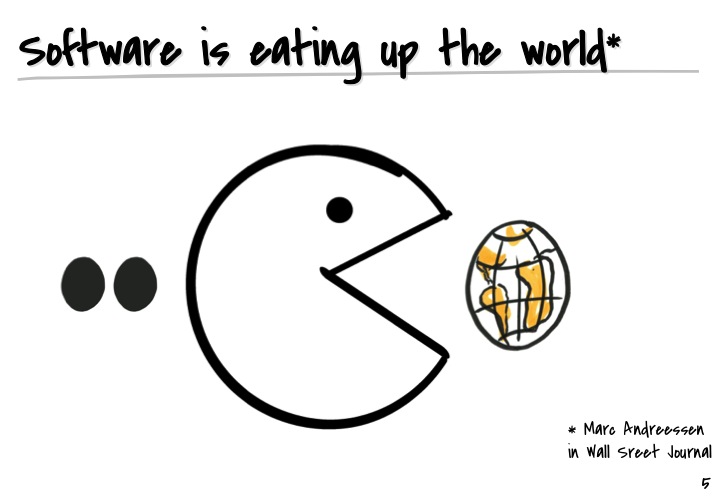 With regard to the "regret" side of this section heading, I couldn't help but wish I had signed up for a computer science minor throughout this class. Something about gaining an in-depth knowledge of the technologies which Marc Andreesen describes as "eating up the world" without a technical understanding of the science that drives this innovation just feels a bit disempowering to me. It's sort of like driving a car and not knowing about its basic components. Sure, you don't need to know the nuances of how and internal combustion engine works, but it is nice to know how to change a flat tire and take care of basic maintenance. That seems especially important on the software side of things, and an intro class on visual basic just doesn't seem to cut it when we are learning about things like self-driving cars. At the same time, the fact that I would have had to forgo other formative parts of my education prevents me from being too concerned with this random regret.
A Final Lesson
As many of us have articulated in one way or another over the past few months, this class has served to show me that social media and other digital innovations provide us with enormously powerful tools with which we can do everything from change the world to send ephemeral funny faces. The world-changing work, however, will lay on the shoulders of people, and the relationships that we foster will be much more important than the mediums that facilitate them.
Thanks for a great semester!