If you have a business page on Facebook and you haven't started using Facebook Insights, listen up.
Running a solid business is always step one, but if you aren't getting your message out to the right people in the right way, then your business will go down the tubes regardless of the value of your product/service.
When is the best time for me to post?
What topics resonate most with my audience?
Who is my target market and where do they hang out?
We can get answers to these questions with FB Insights, and finding these answers can be a total game-changer.
Facebook Insights can show us which types of posts our readers want to read as well as when they want to read them. This "insight" is extremely valuable because it basically tells you exactly what to do to write a successful post that will increase engagement with your page.
There's a little bit of a learning curve with FB Insights, so for today let's stick to the terminology.
Facebook Insights: 7 Terms to Understand
1. Impressions
Impressions are the number of times your post is displayed. One person could view multiple impressions of the same post. For example, I may see a post come up in an update in my Newsfeed, and then see it again when one of my friend's shares it.
2. Reach 
Reach is the number of people who received impressions of a post. Reach only counts each person once regardless of how many impressions they see.
3. Engagement rate
An engagement rate is the percentage of people that react to, share, clicke, or comment on a specific post.
The average Facebook engagement rate in January 2017 was 4.32%. Video were by far the most engaging post format with an average engagement of 5.14%, while status updates, links, and images ranged between 4.2% and 4.4%. The lesson here is that videos, especially live videos, get more traction.
Of course average engagement rate will vary by page size and business type. If you have a much larger audience or a business that focuses more on its online offerings, then you will likely get more engagement. Engagement rate can also be a little deceiving because it's a percentage, so a page with millions of fans may have a lower engagement rate than a smaller fan page.
The key to understanding your engagement rate is to pay close attention to it and watch how it changes and grows over time. You can also select similar pages to yours and add them to your insights. Facebook will help you view engagement on those pages' posts so can track what's working for similar businesses.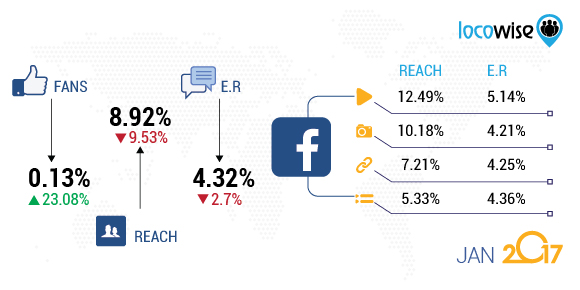 4. Boosted Post
Facebook Page owners will see a little button on each of their posts that says "Boost post". (Note:  this option is not available for personal page posts). Clicking this button will allow page owners to (for a fee) move their posts higher on the Newsfeed of their targeted audience (we'll get to targeting later).
I am NOT a fan of boosting. Boosting is Facebook's way of helping you advertise without having to use the Facebook Ad Manager, which I'll admit can get a little complicated. However, since boosting is meant to simplify things for you, there's a lot you miss out on. Boosted posts tend to focus on engagement, which means if you're looking for sales, conversions, or reach, you're pretty much bleeding money.
5. Page promotion
Facebook prompts you to promote your page by buying and creating ads that will pop up in the News Feed, on the right side of Facebook, and (if you want) on Instagram.
Once you run a promotion, FB Insights allows you to track its performance. You can view the amount you spend throughout the promotion, the number of people that the promotion reaches, and the number of new page likes you get.
6. Organic vs. Paid
Paying for reach or likes is definitely necessary for a Facebook Page, especially if you're just starting out. However, the organic (natural) reach/likes are super important because this shows the true inbound marketing effect. Organic customers are finding you because your page naturally comes up in their searches, which means your stuff is a great match for what they want.
At the end of the day, the more likes you get the more likes you get.
But if you're trying to understand what part of your content is actually generating likes, the whole process becomes a bit of a catch 22. Paying for likes is important because you have to have a least SOME likes if you want to show up in people's search results, but once you start paying for ads it also becomes very difficult to understand what was actually working organically.
7. Targeting
When you set up Facebook ads and promotions you can target a pretty specific market. Facebook gives you options for targeting location, age, gender, language, interests, behaviors, etc. Facebook has A TON OF DATA about its users, which is awesome for business owners because it allows them to really narrow down a niche market.
Targeting is super important for a few reasons. First of all, obviously we want to send our posts and messages to where our target market will see them because those are the people we have in mind when we create products/services.
What I find to be more valuable about targeting, though, it that it can show us where we get it wrong. For example, a Facebook business for high-end baby clothes might set up its target audience to be young, wealthy mothers, but maybe that results in very low engagement. The business can then alter the targeting settings to see if something else works better. Perhaps older women (50+) are a better target market for that business because the grandmothers and older generations in a family want to buy these clothes as gifts. Super random example, but hopefully you get the point.
That's it for now…If and when you're getting into Facebook Insights, make sure you understand these terms! It can get fairly complicated otherwise.
Does anyone else have a FB Business Page or want to make one in the future?