I'm not going to lie, I'm one of the millions of Elon Musk fans out there. I'm very bought into all of his ideas and think that his tech companies play off each other rather nicely. But, if you've been following Tesla at all recently, you've noticed that it has not been living up to Musk's expectations and promises.  Because I'm such a big fan, I wanted to dive into what exactly is going on and give a forecast of what the future of Tesla might look like.
These two charts are concerning. While analysts continue to slash Tesla's earnings per share, its market value does not accurately reflect this. Why is this the case? Well, for starters, Elon Musk has continuously mislead investors. Although Tesla was making an average of three Model 3s a day in August, Musk told investors he expected production to be 1,500 cars in the third quarter (a mark missed by more than 80%). He knew Tesla could not possibly make 1,500 cars, but did not tell investors until he was forced to in a quarterly report.
So, why is Tesla falling short of Musk's promises? The short truth is that although Musk may be an expert in tech, he is no expert in manufacturing. Unlike an established car maker that has decades of experience building vehicles, Musk is new to the game. Last year, the Model X suffered serious delays because both management and workers were still figuring out how to make them. Things have not changed; parts of the Model 3 were being made by hand as recently as September. These problems have led Tesla into what Musk referred to as "production hell". Reports have surfaced that workers are being overworked and worried that these conditions will continue. One report claims that they worked 13 straight days. "They went by with carts and dollies full of Red Bull and threw them out to everybody. It felt like we literally lived there."
These reports have led to the United Automobiles Workers Union to rent an office within a mile of Tesla's production plant. They've since filed complaints against Tesla, claiming that workers attempting to unionize have been threatened by the company.
Okay, so maybe Musk lied about production and was a little overconfident in his workers' ability, but he couldn't have lied about anything else…right?
Wrong.
At the Model 3 launch event in July, Musk stated that Tesla received 500,000 pre-orders for the Model 3. On an investors call later that week, Musk revised that number to 455,000, and his excuse was that 500k  "was just a guess".
Last year, Musk convinced shareholders that an $8 billion purchase of his struggling SolarCity company would be a positive investment that would help Tesla's charging mechanism and provide millions of home with electricity. Today, there is no evidence of how exactly Tesla is incorporating this technology or that these panels are being installed by the masses.
So, how does Musk plan to fix Tesla's production difficulties? Why, offshoring of course!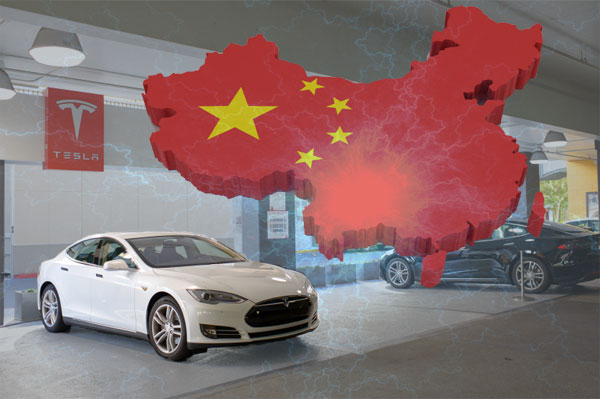 Musk knows he can produce cars at a cheaper price in China. However, in a typical Musk leap of faith, he believes he dominate the Chinese market. Musk expects significant investment in a Chinese factory, likely near Shanghai, in early 2019.  This would make Tesla the first US auto manufacturer to have a fully owned production facility in China (manufacturers typically use joint ventures with local companies).
Establishing a wholly owned factory will allow Tesla to drastically cut production costs, and thus the sales price. Musk preaches that they'll be able to effectively sell to consumers once they are able to do this. And, for once, Musk has some facts to back this up. Although the Model S is about 50% more expensive in China than it is in the US (due to tariffs), Tesla's revenue in China tripled to over $1 billion last year (from $319 million in 2015). China is now Tesla's second largest market, accounting for 15% of its overall revenues.
China has done all it can to become the world's leader in clean energy, making significant investments in solar over the last few years. Part of this want includes leading the world in electric vehicles. Given that Tesla has an existing presence in China, it should be able to take advantage of government policies (as long as it moves fast enough).
After doing this research, my conclusion is that Tesla's future will be determined by whether or not they can capture the Chinese market. They're without a doubt currently sitting on a bubble. Even if the manufacturing problems work themselves out (which I believe they will), the company is grossly overvalued. Although the market for electric vehicles is growing in the US, auto makers with brand loyalty are rapidly entering the playing field.
If Chinese consumers, likely without loyalties to other US manufacturers, truly have a preference for Tesla, the revenue and growth potentials there are unprecedented. The emerging middle class will have the money to spend on what they want, and the government, pushing for cleaner energy, is likely to provide subsidies to help this clean revolution happen. It'll be interesting to see what the future holds for Tesla. For now, I would advise investors to lower their optimism until pieces are put in place.
Sources:
https://www.wsj.com/articles/tesla-faces-labor-discord-as-it-ramps-up-model-3-production-1509442202?shareToken=st3bee7977c4e74cc991c6d94d52d460c0&reflink=article_email_share
https://www.wsj.com/articles/tesla-posts-loss-boosting-pressure-to-speed-output-of-model-3-1509569093
https://www.wsj.com/articles/the-truth-is-catching-up-with-tesla-1507399374
https://www.wsj.com/articles/tesla-drives-farther-off-course-1509571922
https://www.wsj.com/articles/tesla-reveals-time-frame-for-china-factory-1509599003
http://www.businessinsider.com/what-tesla-is-doing-right-2017-11/#teslas-china-strategy-is-a-departure-from-business-as-usual-2