It's completely insane to think I'm writing my final blog post for this class because I'm still wrapping my head around the fact that this semester is over. This has been one of my favorite classes to date, and I'm incredibly sad to say goodbye to this community we've created over the months. I really loved @juliasmacdonald 's final blog post (check it out here— https://isys6621.com/2017/12/05/julias-declassified-isys6621-survival-guide/) where she discussed some declassified IS6621 survival guide tips, so I thought I'd share a few of my ideas on how to get the most out of this class!
1. Blogging
Blogging is one of the most important parts of this class, as it connects our student community, Professor Kane, and what we're learning in our tech research world each week. I think the biggest tip I have for this part of the course is to attempt to do two things with each blog post:
Write about something you want to talk about in length in person. Make the topic so interesting that you want to send your non-IS6621 friends your blog post from the week! It can seem easy to run out of ideas for blog topics quickly, but remember you don't need to be an expert to write it. Become an expert on the topic by doing some thorough research and collating the most important of the findings. Invested interest is more important than personal knowledge if the topic is boring and the knowledge widely known.

Be concise but penetrative. I love reading a blog post from classmates which: introduces me to a topic I know very little about, provides a description that gives me a strong foundation of knowledge, and then provides thorough data and analysis about the future implications of the topic. After reading blogs with clarity, depth, and dissection, I feel educated on a topic that I learned directly through a classmate— the beauty of this whole system! What's great is that many blog posts inspire me to do my own further research on the topic. Luckily our diverse class ensured that I was always reading a new topic or a new take on something.
2. Staying on top of things
This class has many requirements that require weekly attention and completion. This includes readings, tweets, and comments every week, along with a blog post every other week. The weekly survey is also a deliverable that requires submission within a few days after class. While none of these individually are too taxing on time, altogether it can seem like many little pieces to remember. I would suggest choosing a blog day that works into not just your class schedule but more importantly your homework schedule. It may also help to choose a day to complete the other components of weekly deliverables. In addition, I try to take good notes during the presentations so that when it comes time for feedback I can easily recall what thoughts I want to pass on to the presenter!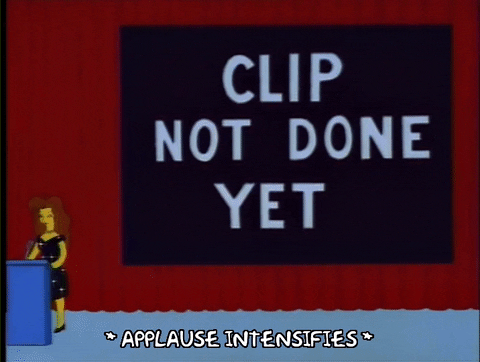 3. Presentation
The presentation is in my opinion one of the most fun parts of the class, because the floor is completely yours! I was actually quite undecided on my topic for some time until I had the idea to focus my presentation on the Kardashian family and their use of social media to further their enterprises. This was a great topic for me because I had a foundation of knowledge and a natural interest in the subject. If there is a topic you know you for sure want to present on, then by all means reserve it when you can choose your time. If you're unsure like I was, I would suggest not forcing an idea! Instead read a variety of sources, browse Twitter, watch some cool videos, and wait until inspiration strikes. Forcing the presentation to be centered on a topic you don't really care about or connect with will likely show through in the lack of passion in the presentation. Being passionate about the topic is the easiest way to get people engaged, because your enthusiasm will be felt and heard. I would definitely recommend keeping a close eye on the time. I checked Professor Kane's timer too infrequently, and spoke a little too fast at times as a result. Ultimately, have fun with the presentation! This is your chance to take Professor Kane's spot for 15 minutes, so use it wisely and make the presentation something you'd want to sit through as a student.
4. Snack Time
As a self-proclaimed fatass (excuse my language), snack break was a very enjoyable part of class for me. I think the best snacks that people brought were baked goods like brownies, so if this is an option for you I would definitely recommend that! In addition, it's not out of reach to have a restaurant cater the class for you. For my snack time, I was able to convince Gyro City of Brighton that our class was worthy of a free catered meal in exchange for some positive social media buzz for their business. Many local businesses are willing to cater for events or functions that can help them gain exposure in the community. IS6621 is an easy sell because it is a large class, composed of both undergraduate and graduate students, and most importantly it's a class focused on social media! Emphasizing the class's capability and reach on social media platforms and how those can be leveraged to promote a business will definitely help convince potential restaurants. If all else fails, chips and hummus/guacamole is always a good backup.
Taking this class was one of the best decisions you could make, and hopefully these tips will help you navigate #IS6621 just a little bit better. Of course, thank you to Professor Kane for making this all possible and an amazing semester!