One of the topics that we have discussed at length this semester in a variety of capacities is the driving force that is automation. All industries in one way or another are trying to make a concerted effort to make their processes more efficient, precise, and ultimately cheaper. Automation has led to companies across the economy to change the way in which their organization's function and employees have had to develop new skill sets in order to remain an important piece to their company's success.
While we have seen many success stories through automation, we need to make sure that we don't get carried away and automate everything, which I'm afraid some people would be fine with doing. Though we are becoming a more digitally automated society, there are still places in which human error should reign supreme. The one area that I think automation should remain out of is Major League Baseball (MLB), specifically pertaining to some calling for an automated strike zone to replace human umpires.
If you have watched a MLB game on TV in recent years, you might notice that the broadcast has some advanced features that were not present a decade ago, one of which being the pitch zone.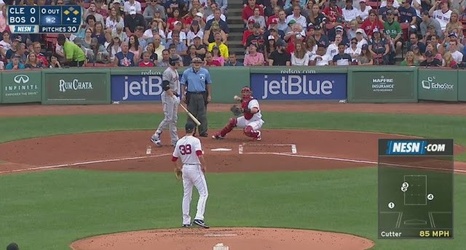 Though some stations have the strike zone digitally placed directly over the live shot, most broadcasts have a virtual strike zone off to the side of the screen that charts each pitch thrown in a given at-bat. This technology was first introduced by ESPN in 2001 and is now widely used across MLB broadcasts. I often find myself checking the strike zone on the side of the screen after pitches to see if the umpires get the call right or not, and for the most part they usually do, which makes sense because they are professionals. But the rise in the use of this technology begs the question: if a human umpire calls 97% of the balls and strikes correctly, why should we not replace him with an automated umpire that calls 100% of the balls and strikes correctly? Some of the millennial qualms with baseball are that the pace of play is too slow, there is not enough action over the course of nine innings, and they have not done enough to incorporate technology and digitally enhance the game to attract a younger audience (the median age of a baseball viewer is 53 years old).
Contrary to popular belief, baseball has been more much progressive in recent years in terms of enhancing the fan experience and highlighting the skill being displayed on the diamond. This movement came to the forefront with the creation of Statcast, which was implemented in all 30 MLB stadiums at the beginning of the 2015 season. Statcast is a high-speed, high accuracy automated tool powered by Amazon Web Services (AWS) that was developed to analyze player movements and athletic abilities. MLB front offices have been using data analysis for years to gain a competitive advantage, but this technology has introduced advanced metrics such as "launch angle" and "spin rate" that can be combined with traditional metrics such as "batting average" and "velocity" to give teams new perspectives on their players. While the teams do not disclose how they use Statcast's data, the platform is widely used on MLB broadcasts to enhance the overall viewing experience. Almost all highlights that MLB posts to its social media pages include the Statcast data.
I could talk a lot more about the way in Statcast has changed Major League Baseball in just the few years that it has been in existence, but I bring it up because I believe that is the extent to which automation should be included in professional sports, especially Major League Baseball. The pitch tracking technology is a nice, additional piece to a television broadcast, but I don't want it to be deciding a borderline strike call in Game 7 of the World Series.
What bothers some people is that the MLB rule book has a clearly defined strike zone, which is anything that crosses home plate between a batter's knees and the middle of his torso. The strike zone is supposed to be black and white, but it's not because each home plate umpire has a different interpretation. Some umpires like to give a few inches off the plate, some don't like calling low strikes, and some give a call to a pitcher if he's doing a good job locating his pitches on a given day. Then, there is always a chance that an umpire has an off day and makes a series of bad strike calls over the course of a game, which is no different than a person working in a cubicle filling out some forms wrong because he didn't get enough sleep the night before.
Would an automated strike zone get rid of all of these problems? Probably, but they would actually take away parts of the game that players and fans love. People who call themselves "baseball purists" agree that there is a certain gamesmanship that takes place between the two teams on the field and the home plate umpire. All players try to subtly work the umpire to some extent in the hope that he will give their team a favorable call at a turning point in the game. Pitchers will stare down the umpire after a call doesn't go their way as a way of telling the umpire that they thought the pitch should have been a strike. Players will chirp from the dugout as a means to get in the umpires head for when a similar call has to be made later on in the game. This idea of gamesmanship creates a game within the game on the diamond and would be lost if we replaced the human umpire with an automated machine. If we were to replace the human umpires with machines, the two teams would be playing something that resembled a computer game more than America's Pastime.
One of the most exciting things that can happen during a baseball game that doesn't include a live play is an ejection of a player or coach. Since the arguing of a play that has been reviewed leads to an automatic ejection, basically the only way that a coach or player can get ejected nowadays is if they argue with the umpire about balls and strikes. These heated interactions get the crowd fired up and provide some quality entertainment for social media enthusiasts. These iconic moments would be lost because I couldn't see any coach or player ever getting into a fight with a machine at home plate.
I am not an advocate against automation by any means. I think that it is beneficial more often than it is not, but I think that we as a society need to make sure that we do not get "automation happy" and take the human element out of everything. While the automated strike zone is a very unique example, I think that it raises a good point, which is that there are some industries in which human error/subjectivity has value. The possibility of an automated strike zone has been mentioned by multiple parties for several years, but it thankfully has never come to fruition because it would bring about a series of problems that would not outweigh the possible benefits. I'd be curious to hear what you all have to think about the possible automation of officiating not just in Major League Baseball, but other professional sports as well.