Social media has always been an important part of my experience with my concentrations, marketing and business analytics. When my natural interest in the fashion industry led me to apply for my first internship at age sixteen, I didn't have much professional experience to offer; all I had was enthusiasm, and a native knowledge of social media that industry professionals I came into contact with saw as an asset. Fashion blogger Tina Craig, who goes by "The BagSnob," took me under her wing and allowed me to work for and learn from her.
Tina started her blog in 2005, making her one of the first fashion bloggers to enter the scene. She and other early entrants like Chiara Ferragni ("The Blonde Salad") consider themselves "first generation" fashion bloggers, opposed to those who have gained notoriety more recently with the help of platforms like Instagram. She and her peers truly transformed fashion blogging into a lucrative career, and a sub-industry within the fashion world. They applied the idea of digital business to their passion of creating fashion-focused content, and figured out how to monetize it beyond simple advertising sales. Together, they developed practices that are commonplace today like sponsorships and collaborations. They paved the way for influencers and social media celebrities of all kinds. Tina had so much invaluable insight to share with me about the origins of the fashion blogging profession that she helped create. At the same time, Tina wanted me to help her understand how the younger demographic that I was a part of was using and consuming newer forms of social media. As Professor Kane mentioned, I think it's really interesting to hear the perspectives of different demographics on social media. Social media and technology move so quickly that I'm excited to hear differing thoughts even within the same generation.
I felt so lucky to be mentored by someone as innovative and insightful as Tina. She gave me access to her blog site, which I contributed writing, graphics, and concepts to. She also put me in charge of her Facebook and Pinterest accounts. That came in handy this past summer when I interned on a digital acquisition marketing team at the luxury e-commerce company Moda Operandi, where I worked on social media from the business side by creating platform-specific ads and evaluating them using statistics. Social media has actually been a major component of all my internship experiences. From press tracking at Tom Ford and Instagramming at Rebecca Taylor, all the way to choosing images to use on social media for the Winston Center here at Boston College, social media's proliferation has been reflected at every step of my career journey.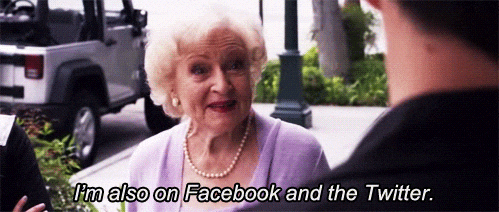 All of that experience contributed to my interest in our Social Media, Emerging Technologies, and Digital Business class. I feel like I have a good idea of how social media and emerging tech are used in the fashion industry, but I know that is not even the tip of the iceberg regarding how those things can be used. In terms of digital business, the fashion industry is actually a bit of a laggard. Luxury fashion companies, for example, refused to advertise or sell online for years, for fear that democratic online platforms would compromise their exclusive brands. So, I know I have lots to learn about the ways other companies and industries are currently using social media and tech, and what is on the horizon in terms of social media and emerging tech. I'm not sure if I want to stay in the fashion industry after college, so I'm also excited to look at other industries through the lens of social media, which I am familiar with and could be a good potential entry point for me if I decide I want to move into a new industry.