While doing my new found favorite activity – stalking our class twitter feed I came across an article that peaked my interest discussing how Spotify is addressing artists social image and personal behavior.
As a loyal team Spotify user over Apple Music, I like to stay up to date on what Spotify is adding, or taking away in this sense, to improve the experience for users. The tweet I found explained Spotify rolling out a "Don't play this artist" feature where users can block certain artists from appearing on any playlists they listen to. While users can currently avoid hearing artists by not adding them to their personal playlist there is no way to limit what appears on Spotify's curated playlists and their radio stations.
What truly peaked my interest on this subject was the idea that streaming services may now be held somewhat accountable for how they react to publicity about musicians and how they act. While it's obviously the problem of the person who's come under fire for their actions third party sources, like Spotify, are now feeling backlash from users demanding they take artists off the site completely. When Spotify initially took the approach of full removal, other artists threatened to boycott the service for redacting their freedom of speech and expression. This came to light and further investigation with the recent stories of Chris Brown, R. Kelly and XXXTentacion after all 3 were put on blast for the emergence of harassment claims and other issues in their personal lives.
I personally had never looked into the repercussions of these behavioral issues on streaming sites or even considered the idea of them going so far as to remove artists completely. There are certain artists I no longer like listening to because of things they have done, but wouldn't have thought of the idea to allow blocking of artists from users personal listening experiences. This subject really spoke to me and I thought hard about the situation and how involved I believed streaming sites should be in these types of issues. I brought it up with multiple friends because I wasn't sure if it was the place of the streaming site to remove artists and from that, if users would accept this solution.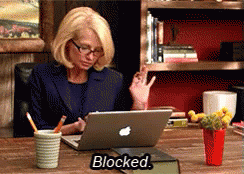 In the age of social media and fast spreading news, we have more information than ever at our fingertips to sift through in order to craft our own opinions on situations and I find that people often dig their heels in when they've made up their mind. For this reason I'm not sure that users will be completely satisfied with the blocking feature as it still allows for the artists to make money on the site. Because Spotify has tried to remove artists before, I assume that they came under fire previously from users who felt it was wrong to promote artists with dark pasts.
This lead me to my next thought of where do we draw the line for what it takes for an artist to be completely removed from the site. How do you quantify social issues and their impact on society and judge one thing as being more okay than the other? If Spotify took into account every complaint it must get about an artist being featured, the quantity of musicians on the site would rapidly decrease in turn decreasing the quality of content.
One thing that does interest me about the new service is that you cannot block songs that artists are featured on. This tech glitch could leave the streaming service in hot water if the server plays an artist that a user thinks they have blocked. Could this cause Spotify users to join different streaming service teams or will Apple Music and others need to follow in Spotify's footsteps?
I personally am excited for this new feature and think it's a great starting solution to this problem with Spotify. However, I don't think it is the duty of the streaming service to deal with the repercussions of artists actions and take blame for not immediately removing them from the service. Users can choose not to listen to artists they have a problem with, while people who may not see the behavior displayed as a problem can still listen as much as they want. I think Spotify has gone above and beyond to accommodate its customers requests and dissatisfaction with being shown artists that they are no longer comfortable listening to.
After stalking the "Spotify" and "Block" topics on Twitter there seems to be overwhelmingly positive reactions to the addition of the new feature. Users are excited to share who they blocked or who they're excited to block once the feature gets added to their profile. R Kelly, Chris Brown and the Chainsmokers are amongst the most popular artists to be blocked so far. Who, if anyone, would you block?
Here's the link to my Spotify if you want to share music! I'm always open to new suggestions!
https://open.spotify.com/user/1240876560?si=uVmh8q3tRQKAhTxk34MgAQ