Part 1 – Technology: The Addiction
I was raised on a farm in the Irish countryside, where spending time outdoors wasn't so much of an after-school privilege as it was an expectation. My parents had the mindset that if we had time to be sitting in front of the TV then we had time to do yard work, a mentality that neither myself nor my brother quite appreciated at the time but one which I've grown to admire for in more recent years.
Now don't get me wrong, in spite of their aversion to us being inside "on a day like today" (picture rain, lots of it!), we were given our allotted technology time. The problem with that though was that, with a strict ban on video games and a dial up speed that would rival an iceberg, it often took longer for us to start the computer than we actually had in said allotted tech time.
And yet despite this significant lack of technological infrastructure in our home I was still informed by my parents regularly that I was "addicted to that bloody thing". Whether it was Sims on the family PC or Pokémon on the Gameboy Colour (bougie I know), my parents never discriminated. If it was technology I was 'addicted'. And my 'addiction' apparently didn't stop with my growth spurts. In this past year alone they've accused me of being hooked on Instagram, Facebook and Netflix… Crazy, right???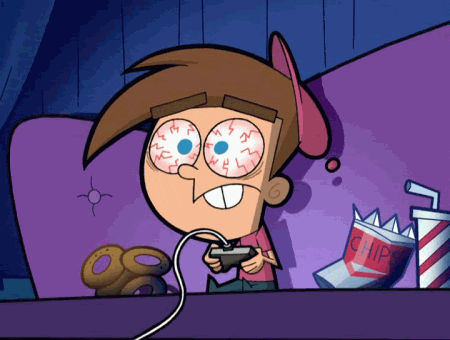 Okay so I'll admit to the Netflix one, but honestly, I've lived my whole life believing that my parents were technophobes and that they were just imagining things.
That was until I updated my iPhone software. iOS 12. It started like so many other updates, insignificant and inconsequential, but by the time Sunday evening rolled around and I received my first ever 'Screen Time Report' notification, the update no longer seemed so trivial. I was not prepared for the number on the screen and I was honestly more ashamed of this report than any school report I've ever received. In fact, when I saw the number of hours (plural) I spent on each social media app every day I began googling how they calculate those hours because it MUST have been a mistake. I was in total denial.
What was even worse though was the next week's Sunday evening notification that my average screen time was up by 20 something percent. How could that be? I had tried so hard to be so conscientious about my app usage. And so, started the yoyo screen time dieting. One week screen time was down a few percent, the next week back up again. The Sunday evening weight watchers style check-ins were killing me. I was getting close to hitting my rock bottom, so I did what any good millennial would do when faced with a crisis. I turned off the notifications.  I was happy in my ignorance until the other day, when our beloved Instagram went down for a couple of hours.

I personally had been at a conference all day and so hadn't even noticed that the app was down, but the whole freak-out got me thinking again about my screen time and how accustomed we have become to having uninterrupted access to these apps at all times. Were we addicted to Instagram?
According to Psychology Today the most recent update to the Diagnostic and Statistical Manual published in 2013, expanded the definition of what constitutes addiction to include behavioural addictions like gambling. And while technology addictions were not specifically included in the list, the manual did specify nine criteria for dependence, including "craving a given item, habit, or substance; use of that item resulting in a failure to complete major tasks (like work), and use of that item creating hazards (like, say, checking your phone while driving)."
Use or Abuse?
One of the problems with diagnosing this addiction is that it is often hard to decipher what a normal level of technology use is. As technology has evolved so too has our tolerance for what is socially accepted behaviour. It wasn't long ago that the landline would ring during dinner time and it would go unanswered because it was rude for anyone to think about calling during a designated family time. Nowadays we text, tweet and swipe our way though meals. And while, to some, this behaviour might be seen as rude and antisocial, the behaviour itself does not necessarily constitute an addiction. The problems arise when, if asked to, you cannot go a single dinner without checking your phone. This is the difference between a problematic use of technology and a dependence on it.
Jessica Wong, a state-certified prevention professional at the Hazelden Betty Ford Foundation in Saint Paul, Minnesota, says that "about 1 in 8 people have problematic use of technology, they're making less than healthy choices but they are not dependent. About 1 in ten have progressed to a level of dependence."
Dependence on digital devices can have serious negative effects on our health and wellbeing outside of us just neglecting one small responsibilities. A 2010 study in the Journal of Psychopathy found a direct link between heavy internet use and depression and Psychology Today found that excessive screen time could damage brain function, and even just holding your smartphone can make it harder to think. In addition, a study by the National Eye institute linked an exponential increase in myopia (nearsightedness) in the US to increased screen time, while a report by NPR in 2017 claimed that the 11% increase in the number of pedestrian fatalities was due to an increase in distracted driving and texting while walking.
What's more is the impact that technology is having on the development of communication skills in children. Experts fear that as children replace face to face interactions with digital ones we could irreparably damage the communication skills for generations to come. Combining this with the fact that technology skills will soon be commoditised in the workplace, and emotional intelligence will be the number one thing that employers look for, paints a dark picture for those of us that don't know how to unplug.
Course Correction
Technology is not leaving our lives anytime soon and the benefits from being connected to the digital world definitely outweigh the drawbacks, however there is a point at which technology tips from being something that enhances our lives to something that dictates it. Taking back control of our lives is about moderation and it starts with putting the phone down. The following tips and tricks have helped me to spend less time online and have helped me to reduce that pesky screen time number.
Turn off your notifications – The screen time app shows you the number of notifications that you receive in a day and the average in an hour. Notifications are so distracting and are the primary reason that I pick up my phone. Turning them off (and only leaving on the most important ones) had an amazing impact on the number of times I picked up my phone in a day.
Set App Time Limits – Setting app limits lets you know when you've reached you allotted app time each day and can be seriously effective in keeping your Instagram hours in check.
Put the phone down – in another room preferably. Do you ever find yourself mindlessly scrolling through twitter while watching Netflix? I do this the whole time and honestly, it's a total waste of time on so many levels. Leaving your phone in another room (on silent!) is great for cutting your dependence on it. The first few times you do it you might have that anxious, uneasy feeling but I promise it's worth it and it's a really great habit to get into.
Look out for Part Two of the Digital Drug Series, Technology: The Therapy, where I'll be taking a look at some of the ways in which technology is being used to rewire our brains for the better.