I have to say, coming into this class I knew I was going to enjoy it but I didn't know that it would end up being one of my favorite classes of my MBA experience. This course has embodied a lot of the ideas that business school sells itself on, but typically the reality falls far short of the expectations. Looking back to my first post, I would say that without a doubt #ISYS8621 has assuaged my fears of robot takeover to a point where I don't even register them anymore. So let's dive into why my fears have left, the skies have cleared, and I'm on to brighter days.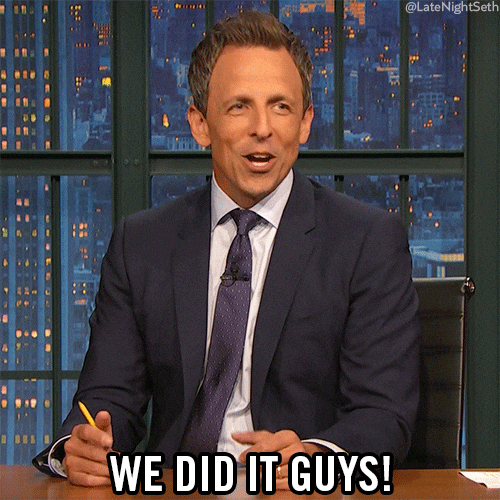 Erin's Takeaways:
Good class discussion breathes life into me
Maybe it was being virtual for so long, the lack of communication and interaction with friends and loved ones, or the desire to hear more opinions than just my wife's (she doesn't read these, but I am still scared so no offense to my lovely wife) but our class discussions left me feeling rejuvenated and inspired. I was once again able to hear lots of different thoughts, opinions and experiences that I otherwise would have never known. I feel as if I learned more from people's takes on app privacy than I did in most of my classes last semester. It was just always so cool to know that when I came to class not only would I get a rundown of current events and the class topic, but I would hear different takes on it.
2. COVID shook things up and lots of companies are not looking back
We talked about how much COVID affected companies and their digital strategies quite often in this class. My biggest takeaway from all of those discussions is that a lot of companies took a dive into the deep end to keep up with companies that had already been implementing and evolving a digital strategy and it seems like they aren't going back to the before times. It was really cool to learn more about how companies pivoted and what the future looks like after those pivots.
3. AI + humans makes humans better
As I said before, I am no longer afraid of a robot takeover except for the Boston Dynamics robot dogs. The way they walk is creepy, and they will always terrify me. But other than that, our frequent discussion of AI applications and deep dive into why AI is here to help proved to me that humans are good at certain tasks and AI is good at certain tasks and when those 2 are put together humans are much more efficient and productive. I am super interested to see where this partnership goes, and how I will have to leverage it during my career.
4. Companies and managers need to be consistently learning and growing, with the help of technology
Due to the rapid growth and expansion of technology, companies need to continuously be adapting and changing their digital strategy to remain competitive. As we saw with COVID and from our class readings, if a company does not have an established digital strategy in today's world it gets left behind. As I move forward in my career, I will always keep this in the back of my mind to continue to push myself and seek out those teams and companies that ensure they are at the front of the pack in terms of technology rather than playing catch up.
5. Creepy/cool line applies to pretty much anything
The creepy/cool line drifts into my thoughts quite often, and it applies to so many things. I am glad I was introduced, and I will continue to apply it to pretty much everything I come across.
6. Twitter is pretty great
I have really enjoyed tweeting and reading all of the articles attached to tweets. I have learned a ton and really feel like I have my finger on the pulse. Was it a huge time and attention suck? Absolutely! Will I keep using Twitter through my personal account? Of course. The replies and likes that have come out of tweeting for this class have been super entertaining and just show some of the positives of the Twitter community. From having an undergrad get in on my tweet about corporation's social responsibility, to Cadillac liking my appreciation tweet about the new EV, to Shane getting roped into a strange blockchain wormhole, it has been a wild ride.
7. Professor Kane knows Luke Keuchly
Luke's my all-time favorite player. I am now one-degree Luke Keuchly. Thank you, Professor Kane.
I am so glad I was able to wiggle my way into this class (thank god no one else has to suffer through the use of UIS), and I am really glad it closed out my time at BC. Thank you all, but especially William aka Travis Scott's #1 fan.
ERIN OUT