What a semester this has been. I honestly was not expecting to love and enjoy Digital Transformation as much as I did. I considered dropping this class multiple times as I did not know if I was going to be able to successfully deliver the quality of work needed for a good grade. At the end, I decided to take it and learn as much as I could from it, no matter what grade I got.
This class was indeed completely out of my comfort zone. What I can tell you is that I do not regret taking this class. I can rank this as my top 2 favorite class during my entire MBA program, (#1 will always be Supply Chain, sorry I am biased). However, it takes the #1 spot for most fun, engaging and out of the box class I took during my MBA.
Week after week I was surprised with the content that was being created and shared by both the professor and all of my classmates through Twitter, blog posts and the presentations. The fact it was a 100% in person class was so refreshing. After a year or purely virtual school and work life I was craving human connection and meeting new people, which I feel I have done this semester. Learning from each other's interests, life experience and research has been extremely valuable to me. It definitely opened up my eye to topics and industries that I was not very familiar in, and I can not thank you enough.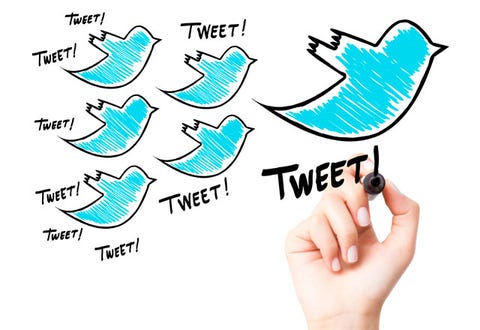 One thing I need to mention is that this class has made me be addicted to Twitter… what can I say, I was waking up and looking at Twitter, taking a break from work and going straight to looking at Twitter and of course trying to go to bed and going on an infinite scroll of Twitter. The content we created every week was incredible, and I will miss it a lot after this class ends. I will never look at new technology the same and will default to the creepy/ cool line to determine where I stand with it. Some of my favorite "cool" technologies we discussed in class were Divya's skin and beauty AI technology and William's discussion on the technology behind Disney and other amusement parks.. I can't wait for it to be safe again and experience it first hand, and the one that creeped me out the most was Lisa's blog post on Clearview.AI… this is and will remain the creepiest of things I learned about in class this semester – but I appreciate knowing that the technology exists and how they work.
Earlier this semester in my initial thoughts blog post I made the comparison that the digital transformation era is similar to the industrial revolution. During the industrial revolution goods started to be manufactured in faster and more efficient ways by utilizing new steam power technologies and then years later with the advances in the automobile industry. Lots of jobs were obsolete, but new opportunities were created once people felt comfortable in learning the new technologies. After everything I learned in this class I can, without a doubt agree that they are extremely similar in the way that jobs as we know it will cease to exist, but at the same time new jobs will be created all we need to do is to be able to learn about these new technologies and apply them in our work space. Companies need to embrace the digital transformation era, or they will be left behind.
In this class I got the answers and more to all the questions I had about AI, machine learning, crypto currency, blockchain and more… as well as the ethics behind it. Twitter discussions were so relevant to the world today and can't say enough how much I appreciated it. I will miss this class, all my classmates, the twitter feed and all the interactions that came with it. Overall, the best class to end my MBA program with.
Congratulations to all of you who will be graduating soon!!