Before diving into my thoughts on the class, I thought it would be best to first introduce myself. My name is Rob Perrault. I am in the part time MBA program here at Boston College. I just passed the halfway point in my curriculum and if all goes to plan, I should graduate in the Spring of 2023. My wife Gabby and I live in Holliston, MA with our two dogs Brady and Remy (who these days are pretty much my coworkers now that I've been working remote for a year and a half). I currently am employed at Dell Technologies where I work as a pricing advisor supporting one of the companies enterprise storage divisions.
My work experience is what brought me to make the decision to take this class in the first place. For the past 5 years I've heard digital transformation after every single all hands meeting at Dell Technologies. Helping companies digitally transform is now part of our mission statement and is a key part of the future of our product portfolio. I'll admit that when I saw "Digital Transformation" as a course being offered, I thought to myself great this should definitely help me at work. Having taken Data Analytics II already we spent a good deal of time in that course covering the history of computers, how they have evolved over time, and what the future looks like for technology. I assumed when signing up for this class that it would be building off some of the concepts we learned within Data Analytics II.
Now I realize that after our first class that won't entirely be the case. After the introduction to the course on our first night and after looking at some of the topics we intend to cover throughout the semester I realize this class is going to look at digital transformation more from the lens of what it means for an organization and not necessarily the technology needed to digitally transform in general. I think the time for this course couldn't be better given the impacts COVID-19 has had on companies from a digital transformation standpoint. Thousands of worksforces worldwide going from primarily office based to remote in a matter of months and even weeks. It has been an interesting adjustment to say the least. I look forward to getting the opportunity to see how digital transformation plays out from this perspective as these topics will be important to understand as my career progresses, especially if I want to move into a management role.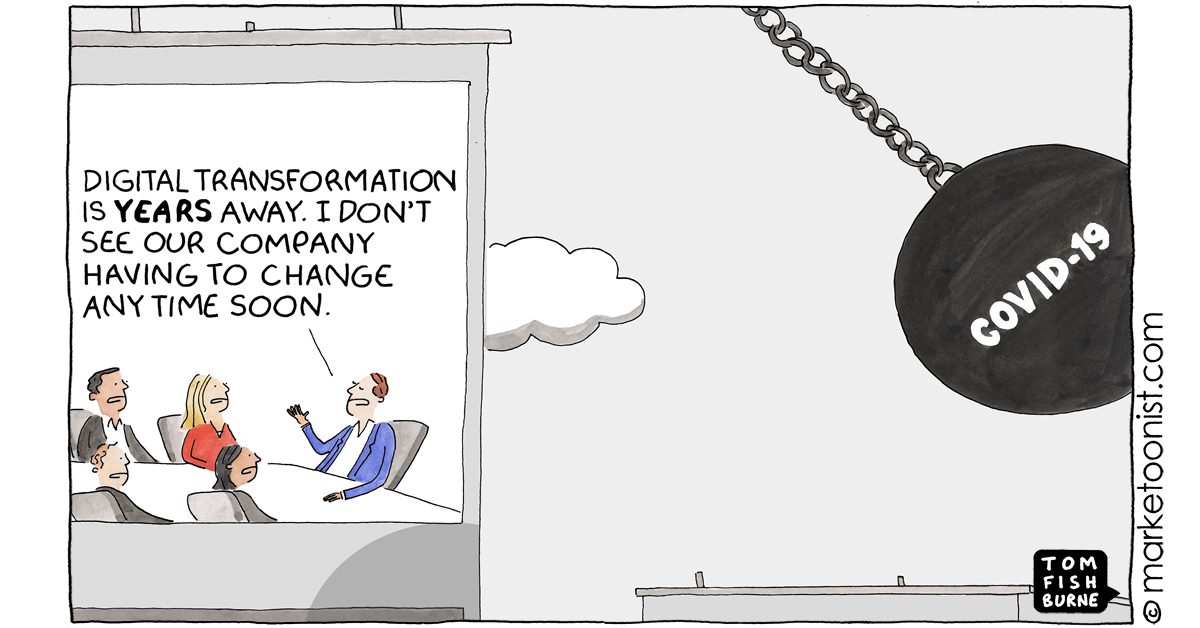 I'm excited to get into the social media aspects of this class. I have never had a twitter account before and have been late to the game regarding other social media platforms like Snap Chat, Instagram, etc. Before joining Twitter the other day I've really only used it for breaking news to get the scoop on something that hadn't been fully reported on yet or to hear about some breaking news in sports. I would argue that this is one of the major problems with social media today that there is a desire to be the "first to report" rather than to report what is correct. I'm not going to lie in saying that I'm guilty following some things down the rabbit hole from time to time and this to me is part of the reason the country and the world for that matter is so polarized today. For all the good social media does for people I also think it has created a whole lot of bad that may not have been on the minds of developers when creating the platforms.
I expect that topic to drive some really good conversation later in the semester and I'm excited to see what my classmates think of the topic. One of the aspects of class I look forward to is the open discussion format regarding the topics of the day. I think Professor Kane is right that this will be unlike any class I have taken in the program so far. Sure I've had casework and worked in small groups in other classes but never to the point that it drives much of the actual class time and structure of the course. One of the benefits of the MBA program in my opinion is the collaborate nature within the classroom amongst the students and faculty. It's something I sure have missed the year and a half living in "Zoomland". Hopefully we can all stay in good health and have a great semester!
-Rob