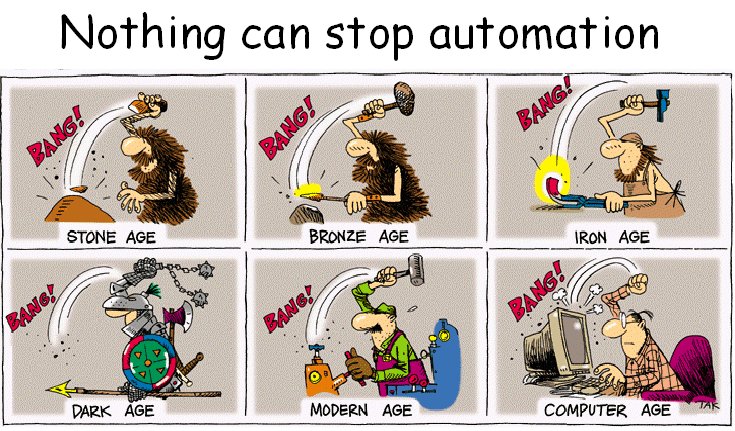 Do me a favor? Read the meme above, and then go ahead and read it again. The goal of automation has always been to improve lives. Automation is not malicious in purpose; "Automation is a tool and not a behavior" (Think Automation). However, the fear of unethical automation practices becomes more real as automation becomes more proficient. With that said, automation can be a double-edged sword. For the purpose of this discussion, I want to focus on how companies should approach the value of automation compared to the displacement of human labor.
I would like to preface this discussion by saying that I recognize that losing a job is never easy. I do not mean to undervalue the seriousness of layoffs, but I do think it's important to look at the whole picture of how we can continue to progress human's standard of living.
Let's start with an example.
Martha runs a candy company and has 4 employees the make candy by hand. The process is very labor-intensive and must be done slowly to prevent serious burns. Martha's employees must be well versed in candy-making because overturned candy and burnt candy must be thrown away, wasting Martha's time and money. At a candy conference, Martha discovers a candy-making machine that can produce candy 3x faster than her employees. Martha knows she has more demand than supply and could easily sell 3x more candy if given the opportunity, but she doesn't want to ruin the lives of her employees. What should Martha do?
Some may say that the choice is obvious, but I argue that is an extreme position on the spectrum of automation; Just because automation is an option does not mean it's the best choice. For example:
Is the cost of the machine vastly less than the cost of labor?
Can the machine produce to the quality standards (or better) of a human?
Are there steps in the process that are too specific or advanced that a machine would not be able to process?
Is there enough forecastable demand to support the increase in supply? If not, what are the costs and risks of storage?
Martha already stated that she forecasts enough demand to support the increase in supply. Martha ran the numbers and found that the candy-making machine would cost less than the cost of employing all 4 of her employees after one year if she meets her increased projected forecasts. Additionally, the candy-making machine was created by candy-makers that put safeguards against overturning or burning of candy, so the added quality control would reduce the amount of waste produced.
I'm sure at this point many more people have jumped on the automation bandwagon, but I still say it's too soon. We haven't discussed what I consider is the most important question:
Is the value of automation significantly high enough to justify the displacement of human labor?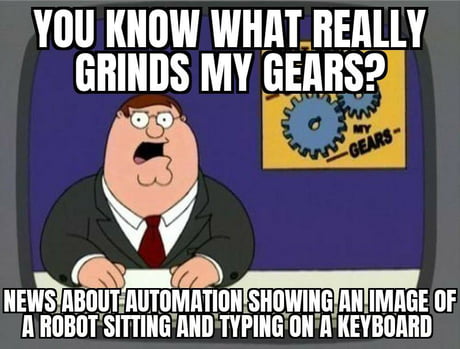 Economists are using highly advanced dynamic modeling…I mean stuff that goes way over my head…to debate where the "just" point should be. New research believes that robots need to be X much cheaper so that the productivity enhancement is large enough to make up for a worker losing tasks. X is calculated by deriving the cost of a human losing their job versus the increase in productivity. The argument is that a loss of productivity may be better (more ethical, if you will) than a loss of wage because it only slightly affects the company's success, yet could completely overturn someone's life. It's a tricky situation.
While we let the economist of the world fine-tune the details, companies can be creative in how they address automation ethically. For example, Martha could train her employees to support other new tasks that come with automation like the need for increased staff on the floor to sell additional candy and folks to monitor the machine and quality test batches. Larger companies may choose to take a more structured view of responsible automation to empower managers to make decisions at lower levels. I suggest taking a look Sampath and Khargonekar's vision of Socially Responsible Automation (SRA) because it was one of the most balanced models I found in my research.
Automation will continue to play a major role in tomorrow's future. It is our responsibility to learn to manage automation in the most ethical way as possible. We need to consciously challenge the inequalities of human capital and labor while still encouraging the evolvement of business. I'm not saying it will be easy, but I can't wait to see what the world will look like for our children and our children's children. Exciting times are ahead of us!!
Note: I have only touched the vast world of automation in this blog. Below are the sources I used as inspiration and specific citing throughout the paper. I also suggest diving into the exciting ethical argument of how much power to give artificial intelligence as it has some similarities to the impact on humans.
Sources:
Tasks, Automation, and the Rise in US Inequality
The Optimal Policy Response to Automation: What are the Tradeoffs? By Eric Donald
Socially Responsible Automation: A Framework for Shaping the Future
Unpacking Skill Bias: Automation and New Tasks
How Americans See Automation and Workplace in 7 Charts
Ethics and automation: What to do when workers are displaced
Ethics in automation | Louise Thompson | TEDxNewcastleUniversity
Automation and a Changing Economy: The Case for Action