In 2011, IBM's Watson became a sensation after its Jeopardy debut, being able to process natural language and scan its library of information to retrieve the correct information in a matter of seconds. About two years later, Watson was deployed to its first business application, and what seemed like a natural fit, healthcare. With the progression of virtual doctor visits, healthcare apps, and online patient records, it seemed like Watson could be the jumpstart to an entirely transformed healthcare industry.
IBM Watson Health was invented to solve the globes most pressing health challenges by processing trillions of data points and evaluating through analytics and AI. It combines human expert knowledge with augmented intelligence (AI), to help healthcare workers and researchers around the world use data and knowledge to provide insights, which make vastly more informed decisions about patient care throughout hospitals and health organizations. Watson's memory banks hold knowledge of every illness, disease, and recorded study and its computer based processing doesn't fall susceptible to the kind of cognitive bias that can throw off doctors. It could provide a  breakthrough in just a couple of seconds. IBM hoped that if Watson could bring instant and vast expertise to hospitals and healthcare organizations and education centers all around the world, it seemed possible that the technology actually could reduce diagnosis errors, optimize treatments, and even alleviate staffing shortages. This is not to say Watson is a replacement, but helping doctors and clinicians respond to their jobs faster and better.
A few years after initial deployment, Watson's helpfulness was hard to quantify. With billions of dollars invested into the artificial intelligence, Watson hasn't revolutionized medicine like many people had hoped. Still, Watson did have very significant achievements. It developed a treatment plan for a cancer patient in less than 10 minutes, in comparison to the typical 160 hours of human experts. And as a research tool, Watson analyzed over 70,000 studies to find six other alternatives to modifying a protein used to prevent tumor growth, where a normal researcher can only read just 300 studies per year.
Currently, IBM is still making investments into Watson. There is a significant shift in marketing, now branding Watson as another tool at doctors and researchers' disposal to confirm, narrow, or hypothesize, rather than a one stop solution. Additionally, the expansion of all industries in cloud storage and cloud computing has refocused attention back on Watson and how AI will contribute to a growing tech infusion into multiple industries. This is not to say that Watson is out of the dark, as the division of IBM continues to lay off engineers as the difficulties of turning AI into a profitable business continue.
Still, IBM had made several strategic acquisitions in an attempt to bolster Watson's market readiness. Three companies were bought by IBM for the vast quantities of data each possessed in addition to the proprietary data analytics systems that processed the data. Secondarily, IBM captured the customers that these companies were using, mainly healthcare providers who saw the benefit of health analytics to improve care and business.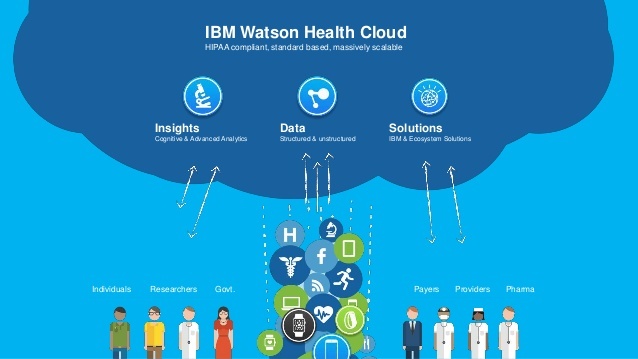 IBM's website notes that "…we also recognize that progress requires partnership. We provide access to a connected ecosystem of health experts, data, and partners to support digital transformation." Which could be interpreted as pitch language for "the product doesn't really work quite yet". It does provide some benefit, but there are a lot of kinks to work out before it is the dream invention IBM set out to build. There is a high certainty, that IBM will look for a strategic partner who can provide either better technology that can help connect the missing pieces from Watson to the current healthcare landscape or a strategic partner that has a large volume of healthcare data, according to several employees and media outlets.
Ideally, IBM sells off the Watson division to another company in the coming years. After more than $15 billion in investment, shareholders are getting anxious about the future of Watson health and a sale could help rein the company's free cash flow back in. Last month the Wall Street Journal reported that IBM is studying a potential sale to a private-equity firm or industry player. Watson was a large bet on the future for IBM, but the disappointment of the project could be salvaged with a strong sale of the technology and healthcare data. Sales have been down in many quarters throughout the last decade since Watson's launch.
Looking beyond a sale or reinvestment, even today's best augmented intelligence fails to provide a clear and user friendly output of complex medical information. And as IBM has found out, encoding a human's expertise into software in just as difficult as it sounds. This means it is no secret that IBM has learned from some painful losses in the marketplace. In the next five years we will see how IBM manages to find value in Watson and how it refines the mission that was originally cast to revolutionize medicine a decade ago. It either is purchased or needs substantial reform to be of use and finally turn a profit. In the next 5 years if IBM holds onto their investment, it will likely face increasing shareholder pressure to limit the technological ability of Watson and instead find practical, time saving uses for it.
Long-term, artificial and augmented intelligence is a given in medicine. It has great potential to reshape the entire industry, but I think we are going to be looking at a human first, Watson, second world. Perhaps Watson can be reconfigured as a confirmation tool but not as a tool to diagnose. As a confirmation tool, Watson could use the ability to read 250 times the amount of studies and journals human scientists can, and make sense of trillions of data points about patients. There is definitely value in a software that a doctor can input symptoms or genetic history and can predict future illness or disease, just as particular gene sequencing has led to the early detection of certain cancers, and perhaps with more patient information Watson can find its calling in detecting patterns of illness and disease and be an early detection tool. In the long-term, the vast amounts of data have unlimited potential, but for the humans that will interpret and read the outputs of Watson, it will come down to what is most beneficial and valuable for the industry.
Alternatively, Watson seems fully capable of helping insurers, pharmaceuticals, and hospitals manage and store their data in a way that is more efficient and valuable to consumers. In an ever increasingly global society, having medical records at the tap of your phone screen could be potentially lifesaving if an emergency happens outside of your primary physician's care. One of the key changes to watch in the next 10 years is how, or if, medicine changes from treatment to prevention. That is to say doctor's ability to focus on more preventive actions and keeping people healthy versus treating illness when they show symptoms.
Doctors and medical professionals understanding and practice would still have the potential to be revolutionized in a sale or redevelopment of Watson. Just as IBM is looking to turn a profit on Watson, there is a need to streamline and modernize the way global medicine is accessed, performed, and utilized. "Doctors go to work every day—especially the people on the front lines, the primary care doctors—with the understanding that they cannot possibly know everything they need to know in order to practice the best, most efficient, most effective medicine possible," says Herbert Chase, a professor of medicine and biomedical informatics at Columbia University who collaborated with IBM in its first health care efforts. "But Watson, he says, could keep up"— and if turned into a tool for "clinical decision support," could allow doctors and other healthcare workers to stay current.
Under a refined Watson, patients may be able to use existing and new healthcare apps to input their medical history and data and be recommended doctors, frequency of necessary appointments, and retrieve important medical information quickly in an emergency. This could cut down on wait times to see a practitioner, shorten referral times to see a specialist, and help patients to more easily understand often complex diagnoses and treatment plans.
There is no doubt about the great potential for AI to reshape the healthcare landscape, but Watson is not likely going to be the only answer. Technology companies and projects either adapt at lightning speed or are beat out by competitors. Watson may go down as a first mover in the healthcare AI space, but it's certainly not the only one as competitors can learn from Watson's mistakes and get ahead. "IBM has great potential, but in modern business, you adapt or go away. Workers will go to other companies," says an IBM engineer. "The winner will not be IBM."
---
[1] https://www.ibm.com/watson-health
[2]https://newsroom.ibm.com/2019-02-13-IBM-Watson-Health-and-the-Broad-Institute-Launch-Initiative-to-Help-Clinicians-Predict-the-Risk-of-Cardiovascular-Disease-with-Genomics-and-AI
[3]https://www.nytimes.com/2016/10/17/technology/ibm-is-counting-on-its-bet-on-watson-and-paying-big-money-for-it.html
[4]https://spectrum.ieee.org/the-human-os/artificial-intelligence/medical-ai/layoffs-at-watson-health-reveal-ibms-problem-with-ai
[5] https://www.wsj.com/articles/ibm-explores-sale-of-ibm-watson-health-11613696770
[6] https://www.livescience.com/50479-5-ibm-watson-facts.html