Ah, back on WordPress. I hope you all found my presentation last week slightly interesting. I'd settle for mildly entertaining, even. Anyway, I owed you guys a follow-up blog from it, so here goes nothing:
When I started writing this, I planned to cover a bunch of emerging technologies all at once – but much like my presentation, it was beginning to feel too crammed with information. This time, I have the luxury of breaking it up, so I think I will.
Let's start with Blockchain, which should be timely, considering we're all experts in it after our class last week. There are a couple principles of blockchain that can revolutionize the security and transparency of moving goods all across the globe:
Immutable Ledger
This is the lowest hanging fruit/concept from blockchain that could and should be applied to solve a real-world transportation issue, and is also the namesake of this blog. As I discussed in class, so many of the problems in this industry are rooted in poor transparency, visibility, and as a result, security. According to BI, as of 2019, an estimated 15% of all packages didn't reach their final destination in major cities due to theft, loss, delay, or other logistics issues. I have to imagine as volumes have grown and capacity hasn't, that this number has only gotten worse. So where does blockchain come in? Let's look at an example:
Let's say I want to order the jersey of my favorite childhood basketball player, Allen Iverson (of below fame).
I hop on to Alibaba, and order the jersey from a manufacturer in China, with delivery scheduled for 2 weeks from today, due to supply chain and manufacturing concerns.  13 days later, I realize the package should be here soon, and I open my mobile app to track it. There's no update. Days come and go, and still nothing. In fact, it doesn't really seem like anybody knows where it is. After 3 weeks I call up the company and ask where the jersey is. They tell me to hold tight, it still might be on the way. After a month of not receiving the package, I call again, and the company tells me it is safe to say the package either got stuck at customs, or lost.
Now, let's see that scenario with a transparent, immutable ledger being deployed: This chart from BitNautic, a maritime freight company, should help.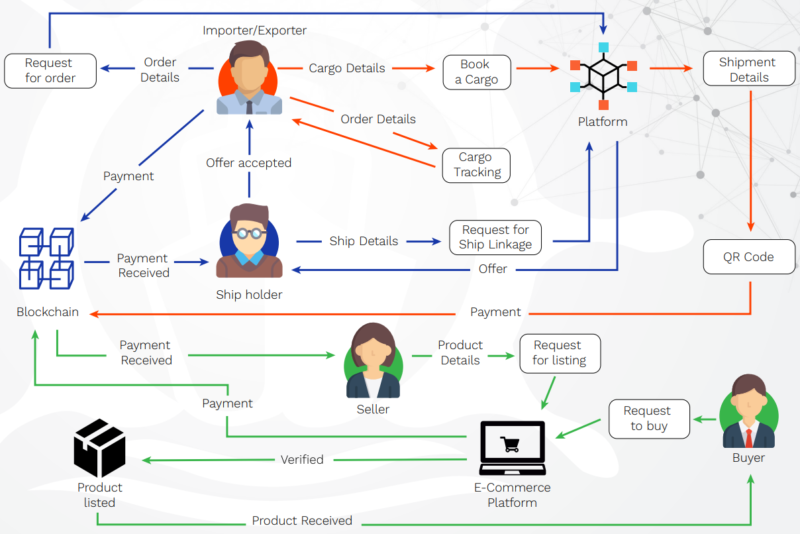 This isn't the simplest diagram in the world, but of the tens of diagrams I saw, I liked it because it basically shows all of the parties involved in getting my jersey to me, and divulges enough complexity that you could imagine what it would look like doing this all by pen and paper, as much is done today.  It shows the ability to communicate requests, verify information, and ensure all of that information is accessible to the correct parties.
From a last mile perspective, this chart from Nextpakk shows at a basic level how to get the product from order to my door, all being done on their blockchain, such that I and the seller could see where the package was at all points in its journey.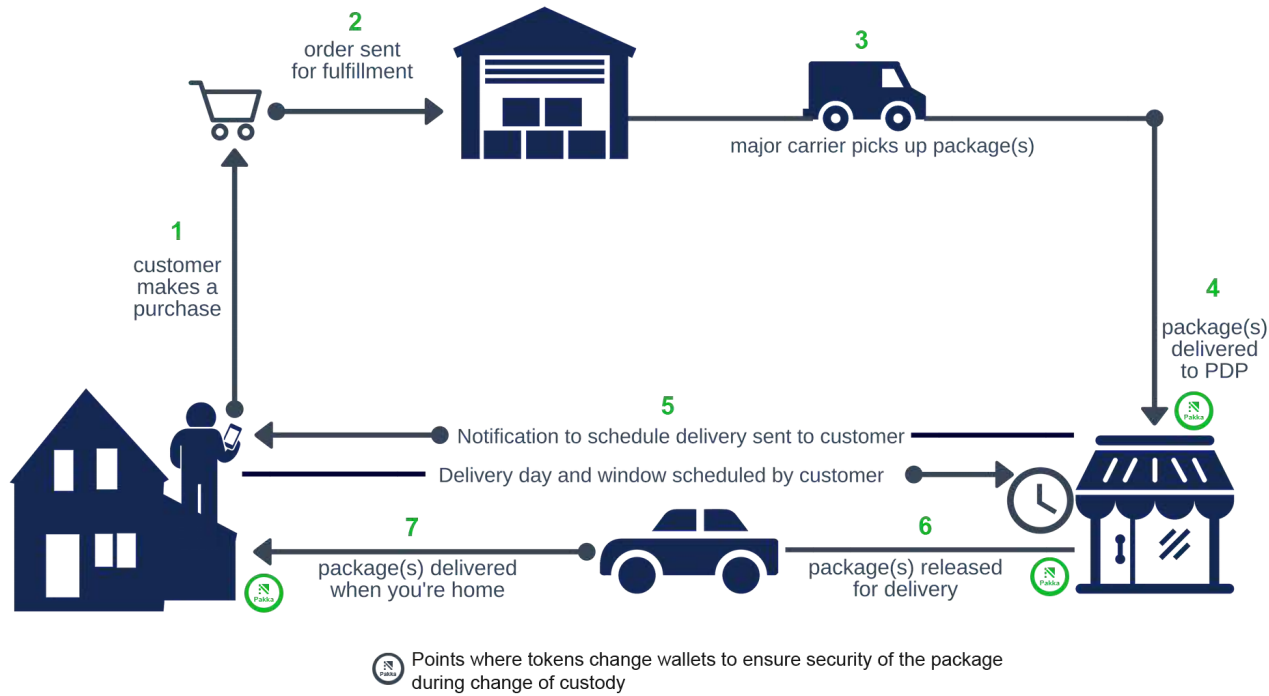 The importance of blockchain here is two-fold: by timestamping and securing all that info cryptographically on a ledger that everyone has access to, you can significantly reduce or eliminate the entry points along that journey where fraud or counterfeit goods could be introduced – as was probably the case with the Allen Iverson jersey I ordered that got stuck at customs. Secondly, you eradicate the problem of losing track of a package or its status, because it's always clearly visible on the blockchain.
"We believe it's going to take a global village to build this; We think the future of this is open source and we think once that's built out, all kinds of people will be able to add value on top of that,"

Dale Chrystie, FedEx Exec, BiTA  Board Member
You might be thinking that this sounds a lot like what already happens today. Well, per a FedEx whitepaper, "Currently technology can, of course, track your package and store transaction data. The difference is that with blockchain every player in the scenario would have access to the same digital records. That's you, the manufacturer, the FedEx ground and air services, the delivery driver and so forth. Not everyone needs, or will be given, all the data in the blockchain — only the parts they need — but the blockchain ledger acts as a single source of truth for all data pertaining to this transaction"
This 'single source of truth' is a major step away from the complex and tedious paperwork-heavy (often hundreds of touchpoints and documents for an international shipment) processes for large carriers. They know this, and they know it will be good for them, so in fact, they have created a group called BiTA: The Blockchain in Transportation Alliance. The group includes heavy hitters like FedEx, UPS and J.B. Hunt, and interesting partners like Delta and Salesforce, who all have a goal of driving adoption of this kind of tech.
Smart Contracts
Smart contracts can facilitate many micro-transactions that occur in a parcel delivery. I like the example of paying for guaranteed deliveries.
Today, companies like FedEx and UPS offer many different "guaranteed delivery times" like next day by 11am, 2 day shipping, etc. But especially as we've seen with volume increases, the pandemic, inclement weather, these promises are not always met, and shipping companies often ask customers just to be understanding of a delay. I read a story about a guy in Louisiana who paid FedEx $55 to ship a medicine overnight to someone in New York. After 2 weeks, they still hadn't delivered the package, and refused to issue a refund. Why should he have to pay full overnight price?
Smart Contracts solve this problem. Payment can be automatically be exchanged if the conditions of the agreement are met, such as the package being delivered in the agreed upon time, in good condition, as verified by all parties on the blockchain. This way, you avoid having to file a claim, get a refund from a credit card company, and many other time consuming steps.
This also prevents payment issues for products that never get delivered at all, like my Allen Iverson jersey above.
Further Reading
Aside from BiTA, Nextpakk and BitNautic who I've mentioned, there are tons of companies doing cool stuff with this.
Amazon (obviously) is working on this
Maersk & IBM have a partnership
TradeLens has an easy to follow website and solution
A great list of 10 benefits to blockchain in parcel delivery