The recent shifts of the movie industry exemplify many of the core concepts we've covered in this course. As I'll detail in this post, many of the changes were expedited out of necessity due to the pandemic but they all leveraged systems and infrastructure that were developed pre-pandemic. So per a central thesis of our professor's latest book, the players that successfully pivoted their business models due to COVID were the ones that had already planted the seeds for this digital transformation.
My case study for this transformation is the just released epic film Dune, the latest adaptation of the celebrated (and dense) 1965 science fiction novel by Frank Herbert. The book is a sprawling account of the far future and the fight for control of a planet that contains a highly sought after asset, a powerful spice. David Lynch released a much maligned version in 1984 that is worth watching if only to see pop star Sting in an intergalactic codpiece.
This 2021 version is directed by French Canadian director Denis Villeneuve and boasts a cast of A-listers designed to appeal to a wide age demographic (I'm pointing at you Zendaya!) Production of the film began in March, 2019 with a planned release in the fall of 2020. The distributor of the film is Warner Bros. Entertainment, which I will note (not insignificantly) is the parent company to HBO.
When COVID-19 shut down everything in the spring of 2020, the movie industry–like most industries–had to figure out a plan. In the immediate, production was halted on anything in production and theatrical releases were delayed to a near future when the world thought optimistically that the pandemic would just be a blip of a few months.
As we entered the second half of 2020 and it became apparent that the pandemic would be having an impact of years not months, the industry shifted to leverage streaming platforms for initial release vs. the typical model where movies would come to such platforms after an exclusive theatrical release window.
This was a much more viable path if these platforms were already launched and had a dedicated subscriber base. Still, there were different revenue and timing models to explore and it was fascinating to see how different studios reacted–it was like a massive public R&D lab to witness.
Before looking at Warner Bros. approach with Dune, I'll turn to what Disney did. Fortunately for Disney, they launched their successful streaming channel Disney Plus just a few months before the pandemic and so naturally they turned to that platform when releasing theatrically was no longer possible. Their strategy was to initiate a new designation for first-run theatrical content, called Disney Plus Premier Access, in which existing subscribers could pay a flat fee of $29.99 to gain permanent access to a new title (in essence purchasing the digital title, as one can do on Amazon Prime Video for previously released films.) The key differentiator with Disney Plus Premier Access is that it was the initial release of these films vs buying a previous release.
The first film released in this manner was the live-action remake of the animated film Mulan, in September 2020.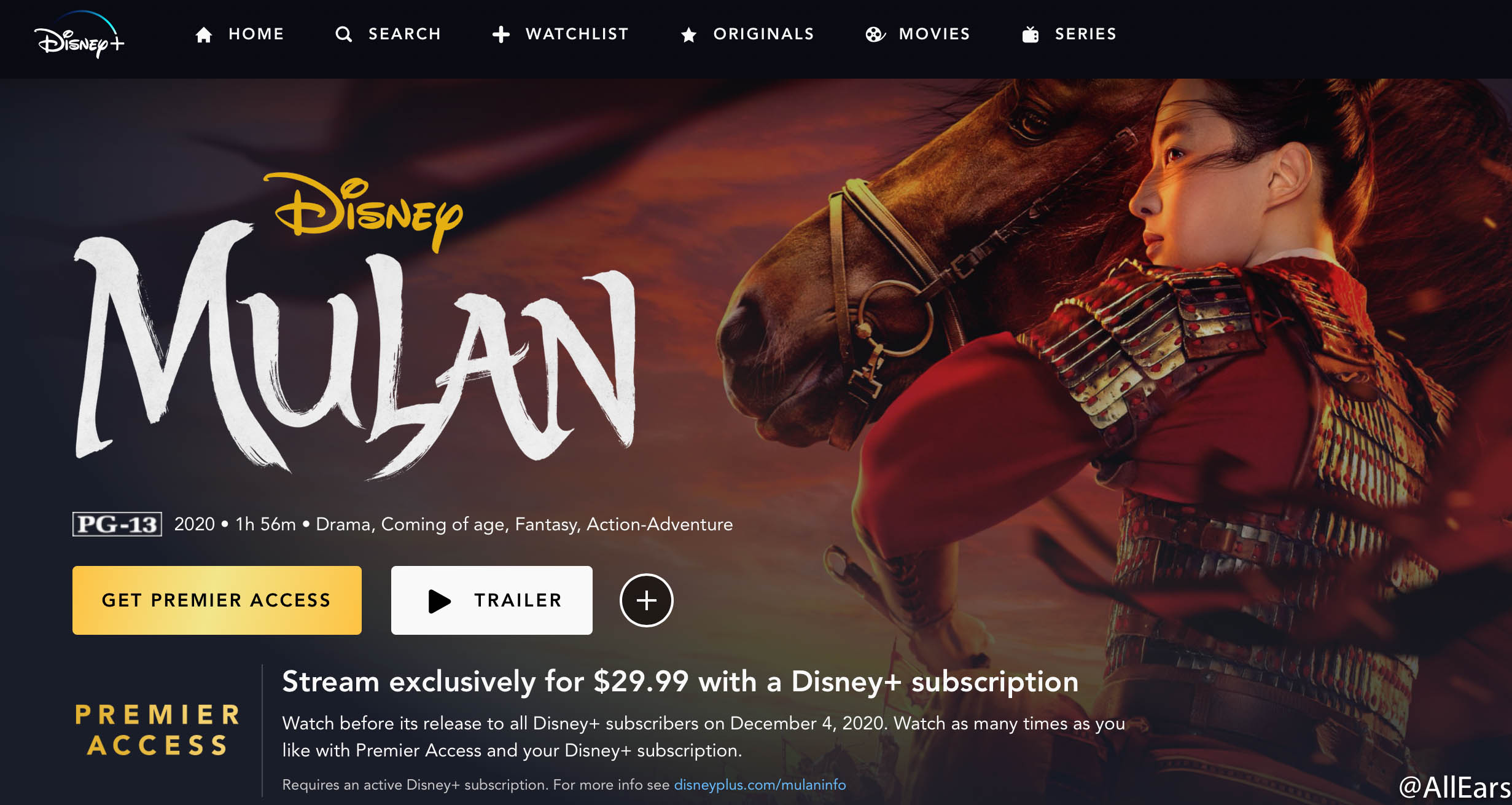 Disney is tight-lipped on the numbers of subscribers who paid this $30 but in a 2020 Q4 investors call, CEO Bob Chapek stated,
And indeed Disney did follow up with four additional Premier Access releases in the next year. They seem to have shuddered the strategy for now based on the traditional in theater release last month for the latest MCU entry, Shang-Chi and the Legend of the Ten Rings.
Warner Bros. strategy for new releases in the age of COVID was to offer new releases for no additional cost on their streaming platform HBO Max, a service which launched in May 2020, in the early days of the pandemic. 2021 titles would only be available for 30 days to subscribers and most often had a simultaneous theatrical release. Theater distributors like AMC were naturally not happy with this plan, as they were hoping event films like Godzilla vs Kong would be the type of content to convince people to come back into the theater.
In August 2021, Warner Bros. reached a deal with the top two theater operators (Regal Cinemas and AMC) to establish a 45 day theatrical window for new releases in 2022, which means that new films would not arrive on HBO Max until after those 45 days.
Grandfathered into the quasi-hybrid pandemic release plan from 2020 is Villeneuve's Dune, which was released last Friday, in theaters and on HBO Max. When Warner Bros. announced their pandemic plan in late 2020, he was openly critical of this decision, penning a scathing critique in Variety that is a remarkable read. He stated at that time,
"Dune" is by far the best movie I've ever made. My team and I devoted more than three years of our lives to make it a unique big screen experience. Our movie's image and sound were meticulously designed to be seen in theaters… I strongly believe the future of cinema will be on the big screen, no matter what any Wall Street dilettante says."

Denis Villeneuve, Variety
He has softened his stance in the weeks leading up to the release since the last thing anyone involved with this film wants is some bad internal PR. Instead, Villeneuve and others have championed how *different* the experience of Dune is in the cinema vs watching from home. And one of the most notable differences is if one is able to see the film in "true IMAX" which is a different aspect ratio than traditional widescreen cinema. IMAX requires special cameras and so often IMAX content are shorter educational content for specialized theaters. Dune has over an hour of this larger than life footage in the movie and this image from IMAX really visualizes what one gains when watching in this format.
IMAX details how "In select locations worldwide, Dune will have an IMAX-exclusive 1.43 aspect ratio, with up to 40% more picture for the film and ultimately showing more of the stunning imagery as conceived by Director Denis Villeneuve." The page lists the locations and my friends, it's sadly a short list, with only TWELVE theaters in the country showing Dune in this "true IMAX" aspect ratio. One of those 12 theaters is right here in Boston, at The Museum of Science. And that is where you will find me on November 6!
I personally don't think cinema is dead. I think players like IMAX and Dolby will have a hand in luring audiences away from their TVs and into the theaters by offering a unique experience that cannot be replicated at home. And indeed, Variety reported today that "premium formats" like these accounted for 50% of ticket revenue for Dune in its opening weekend.
October 27 UPDATE:
Since I've written this original post, the second part to this adaptation has been greenlit for production. I'm updating this post with this information as reports are that a key point of negotiations was that Part Two would have an exclusive theatrical release, so no same day streaming on HBO MAX.