Last week before my Tuesday class I stopped for dinner at Shake Shack over in Chestnut Hill (ya I basically made the whole week a cheat meal) and found myself a little bit aggravated that it took almost a half an hour to get a ShackBurger and some crinkle cuts. Now Shake Shack is not Mickey D's, but it's not really a sit-down restaurant either. It shouldn't take a half hour to get a burger and fries at a fast casual chain. Now I understand times are challenging with labor shortages and COVID-19 impacts to the supply chain, but Shake Shack has an open kitchen so I could see all the employees. They were moving like crazy in the kitchen so I'm thinking to myself what the heck is going on here. But as I was waiting and heard person after person come into the restaurant and say "hey I'm with UberEats or I'm with Grubhub" I got to thinking about how these online ordering apps might be impacting restaurants.
The COVID-19 pandemic has had a profound impact on restaurants. In the early stages of the pandemic throughout 2020, restaurants lost $130 billion in sales between March and October. Over 2.1 million jobs were lost and an estimated 110,000 restaurants were closed permanently or long term. We have seen the impact here in Massachusetts with some locally well known restaurants shutting down for good.
The pandemic forced restaurants to respond to customers in different ways. With in person dining closed due to COVID-19 restrictions, many restaurants resorted to takeout orders and using digital apps like DoorDash and UberEats. While forecasts for digital apps were expected to grow over the coming years, COVID-19 made their use explode. The four major players in U.S. food delivery apps industry (Doordash, Uber Eats, Grubhub, and Postmates) saw their revenue in Q2 through Q3 expand by $3 billion year over year ($2.5B in 2019 and $5.5B in 2020).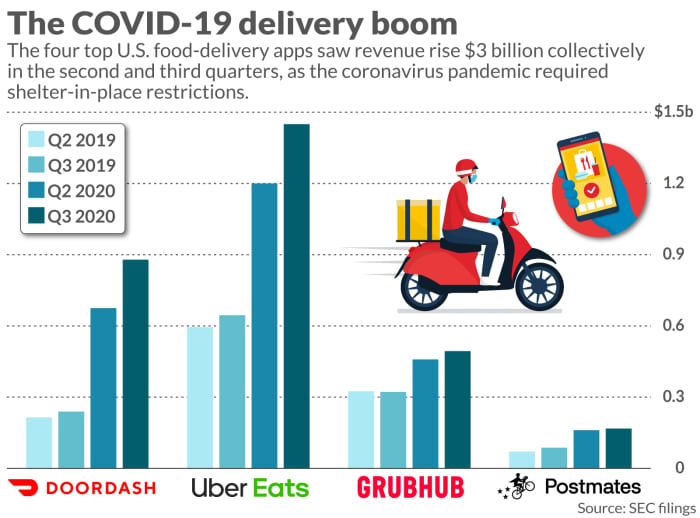 So while it's a fair argument that online ordering helped keep restaurants afloat at the onset of the pandemic, it's important to take a look at how they will impact restaurants going forward. According to research done by Morgan Stanley the delivery market was $45B in 2020 which was even higher than the $41M it had forecasted for 2021. The addressable market for delivery may have shifted forward 2 to 3 years due to the pandemic. The market cap for delivery could hit 2025 projections in 2021 or 2022. While that might sound like a benefit to restaurants, the challenge is that restaurants need to prepare for how to handle this change in consumer behavior much quicker than had these trends continued on a slower trend into 2025. Digital technologies were quickly adapted by consumers throughout the pandemic and restaurants have been playing ketchup (sorry had to throw that pun in there).
Beyond not being able to react quickly to the changing trends, restaurants also have to deal with other components of using digital apps. Number one is the commissions many of the services charge for services. Service fees can be as high as 30% on some orders which can hurt an industry that is low margins as it is. If that charge isn't passed on to the consumer for using the app, the restaurant has to eat the fee through its own margin. While many restaurants dealt with this to survive at the onset of the pandemic a great deal more are fed up with it. Legislation may change this over time as restrictions get imposed on how high companies can charge in fees which has already created tension in the forms of lawsuits. The argument that many legislatures make is that these companies tend to have monopolistic tendencies in terms of market share by geographic area. For example, Grubhub dominates the New York market and Doordash dominates the San Francisco market etc.
What will be interesting is to see where we go from here. Consumers aren't slowing down and restaurants are struggling to keep up. Sadly there are stories of employees quitting because the just can't keep up. Some restaurants are scaling back with online ordering at peek times to focus on other aspects of the restaurant. I would argue this makes a lot of sense. Shake Shack the other night should have prioritized my in person dining order over an online order, or at least have the a system in place to better streamline online vs in person because if there is no differentiation what then is the point of in person dining?