For the past six months, Facebook has been experimenting with M, an AI-powered virtual assistant that can do tasks like book you restaurant reservations, look up movie times, and even buy plane tickets. The virtual assistant is still in testing phase, and Facebook has said little about when it will release it to the general public. But the bot has already served its purpose.
We live in a world where giant companies are being built on the promise of making things more efficient and, by extension, more convenient. Hit a button and you get a cab. Hit two and you're renting a room in someone else's house. Go to Amazon and buy your next stereo instead of going to the store.
Facebook Messenger head David Marcus said at Facebook's F8 developer conference, the technology behind M will be available to developers via a Bot Engine. That means Facebook is giving away some of the knowledge it's gained from M's so-far short life, in the hope that the technology will entice developers to build more AI-powered bots on Messenger, and better bots at that.
"The Wit.ai [artificial intelligence] team, part of the Messenger team, built this very powerful tool that was originally intended for our own internal use, but that I'm glad to open up to everyone today," Marcus said onstage at F8, describing some of the technology that lives within M. "This will enable you to build very, very high-end, conversational self-learning bots."
In an conversation at Facebook's Menlo Park headquarters last November, Marcus indicated that M could be used to harvest AI for others. "Everything we're doing with M is enabling us to learn how to extract intent from natural language better," he said. "If we can help our partners extract intent and then do something with it, then we'll help them do that."
M does have its limits. In a review on Buzzfeed, blogger Alex Kantrowitz asked it to draw Mark Zuckerberg atop a volcano fending off fire-breathing pterodactyls with a Facebook flag, and M refused. Unprompted, it put him on the volcano instead with Zuckerberg and the Facebook unseen. When he asked M to sign the drawing, it initially refused, but later accepted the request, marking an "M" on the sketch. M also declined to summon an Uber, and to sell Kantrowitz's bike on Craigslist. Beyond that, Kantrowitz said it performed exceptionally well.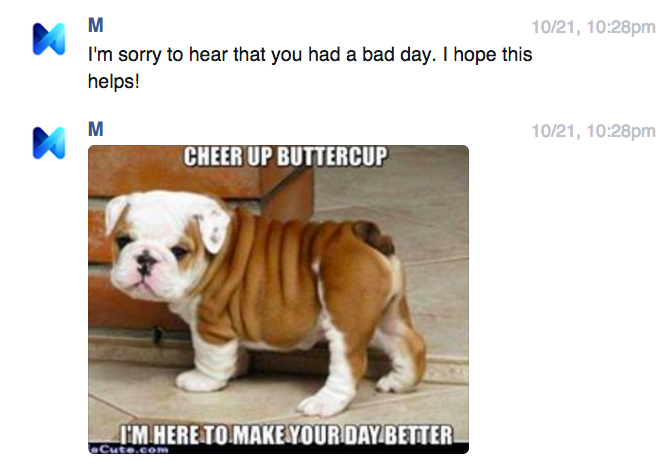 An interaction with M from Kantrowitz
M actually did so well that it was often hard to tell whether the user was interacting with a human or a bot. Some of the interactions with the service — the drawings, for example — were undeniably human; others, like sending a 7 a.m. link to a N.Y. Jets article, seemed likely to be AI, which seems like a weird line to draw in the sand. To scale M to Messenger's 700 million users, Facebook needs to have a finely distinct balance, swiftly determining whether a question can be answered with AI or requires some form of human intervention. The company will also need an emergency plan in case the AI stumbles — if it confuses Richmond, Virginia, with Richmond, California, for example, or is asked to book a flight with a stolen credit card.
Facebook has said little about the business objectives of M — "We don't currently make any money from M, and we don't have anything to share about future plans," a Facebook spokesperson explained in an email to Kantrowitz— but it's easy to see why the company would invest in a product like this. M keeps you inside Messenger when you visit, and brings you back when you leave. It enhances Messenger with a potentially very addictive feature.
Without question, these assistants will make your life easier, but they will also give tech companies a much deeper understanding of your identity. Facebook already knows your birthday, friend list, and much more; with M it could soon know when you wake up, where you like to sit on airplanes, what movies you see, and whether you prefer road or mountain bikes. That's a lot of information to entrust to Facebook, which has a long and storied history of privacy missteps, so M is best approached with caution and common sense.