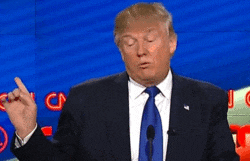 The Department of Defense has been accused several times now of "subtweeting" President Trump. While I'm confident that many people have subtweeted Mr. President, accusing a government agency is, as a Pentagon spokesman put it, "ridiculous".
Before I get into this blog post, I want to put in a disclaimer that is article is not meant to be taken as a political bias against President Trump and his supporters. But let's face it: everything seems to be political these days: from Lady Gaga's Super Bowl Performance to Grammy acceptance speeches. A tweet about the importance of mental health in our armed forces, though, should be treated with the heavy importance it bears.
The DOD's First "Subtweet"
Shortly after President Trump was sworn in, the Department of Defense posted a story on Twitter about an Iraqi refugee who enlisted in the US Marine Corps. This tweet happened
to be around the same timing that Trump was considering an executive order to halt refugee resettlement in the United States. The story described the life of Ali J. Muhammed who moved to the US at sixteen years old after receiving threats for supporting US policies.
Navy Captain Jeff Davis responded to criticism of the tweet and the accusations of the Twitter trolling Trump. Davis said, "If you look at this, this isn't some unique thing…we are tweeting from the Department of Defense account a dozen or more times a day". And Davis is right – this isn't unique. The DOD has posted similar stories previously that detail former Iraqi citizens who have enlisted in the US Armed Forces.
Critics responded to the Department of Defenses tweet viciously, claiming that they were displaying resistance to the federal government.
The Second "Subtweet"
The other "subtweet" from the DOD Twitter account claimed that social media could
provide helpful insight to one's mental health state, and shared a link on knowing what to look out for. The tweet came after a meeting the week prior meant to discuss how to improve upon how we treat mental illness in our armed forces. In particular, the meeting covered how to better prevent suicide, which has been a long term problem both among active-duty members and veterans.
Twitter users were quick to respond to the tweet, probing if it could be about President Trump. Davis responded by saying that the tweet had serious intent, and was "misinterpreted and taken unfortunately…preyed upon by the trolls of the internet."
The Real Meaning of the Tweet
Unfortunately, the tweet seemed to have lost it's purpose as Twitter users argued over whether or not it was meant to be directed at Trump. On January 18, the Secretary of the Army Symposium on Suicide Prevention met with leaders from the military, mental and public health professionals, and companies such as Facebook, Google, Verily, LinkedIn and Snapchat. The meeting was used for those present to discuss how social media can improve mental health and reduce incidents of suicide in the armed forces.
Social media can be beneficial for mental health for two main reasons. The first is that it can show patterns in behavior, and repeated postings related to hopelessness or other depressed behavior can indicate when friends should intervene. Additionally, social media can act as a space to connect those who need professional care and other resources.
Both civilians and service members in our society are "living in a new culture of sharing and connectivity", which "provides new opportunities to apply preventative measures and practice timely intervention." For more information on what the meeting discussed and concluded, please click here.
Not everyone was critical that the DOD's tweet was referencing Trump. Some took the tweet at face value, and tweeted in support of what the Department of Defense had
intended to share. According to research on veterans from the Iraq War, soldiers are at serious risk of mental health issues and studies estimate that one in four members of returning troops will suffer from depression. Family member's of deceased veterans have criticized how the Department of Veteran affairs has provided mental health support to veterans in the past, and the DOD's discussion and tweet were meant to be a step in the right direction.
Trump Against the (Twitter) World
It should be noted that at one point during the election campaign, Trump told an audience of veterans that those who suffer from mental health issues simply "can't handle it". He did face severe backlash for this, as he has for many of his controversial statements. The Department of Defense is not alone in being accused of trolling Trump on Twitter. 
As we've seen in the news, Trump has had issues with many different Twitter accounts, most notably the National Parks Services.
Trump has had so many issues with Twitter users in fact, that it has actually become a goal for many to become blocked by him on Twitter. In this Mashable article are the steps that many have followed in order to get blocked by the President. An interesting goal to have, but it seems that most people are successful.
The next four years with President Trump using both his @POTUS account and his own personal account on Twitter should certainly prove to be interesting, as the country waits to see what Trump will tweet about next. On another note, though, his presidency does make for some great Gifs.