"Even in darkness it is possible to create light and encourage compassion. That it is possible to feel free inside a prison. That even in exile, friendship exists and can become an anchor. That one instant before dying, man is still immortal."
― Elie Wiesel, Open Heart
Starting this blog with my favorite quote from Elie Wiesel, I will discuss global climate change and sustainability. Climate change has been a familiar topic that most people have read about and know many facts about this matter. Yet, it is also a problem too big for an individual to solve that we tend not to feel the urgency and forget our responsibility to be part of the solution.
With much noticeable evidence such as shrinking ice sheets, glacial retreat, and more extreme events in recent years, businesses have built a new focus for sustainability, so as countries. Our nature of constant improvement will not lead us back to the lifestyle before the industrial revolution. We can only move forward to find better technological solutions for the current problem. Just like Elie said, even in darkness, it is possible to create light.
Based on the comparison of atmospheric samples contained in ice cores and more recent direct measurements, there is significant evidence that atmospheric CO2 has increased since the Industrial Revolution.
The good news is that countries around the world have set aggressive targets for cutting greenhouse gas emissions. Building smarter cities are one crucial way to achieve this goal. Today 55% of the world's population lives in urban areas, with this share expected to grow to 68% by 2050. Cities are responsible for most of the world's economic activity, energy consumption, and greenhouse gas emissions. Therefore, to significantly reduce emissions, urban centers will need to use less energy and take advantage of periods when renewable energy is available. "Smart cities" are expected to play a pivotal role in achieving these objectives.
Here is some potential smart city applications. I will explain these with a current examples of smart cities in the process of building in Egypt.
Egypt is building a smart city with a population of 6.5 million in the middle of the desert. As the capital and the heart of Egypt that hosts 21,000,000 people, Cairo is highly congested, polluted, and overpopulated, making it unfit as Egypt's financial and administrative capital. To solve this problem, Egypt has started construction on the New Administrative Capital, a megacity located 30 miles east of Cairo in the middle of the desert. Showing below is a blueprint plan for this new smart, green city. This city will be built in three phases, with the first phase consist of eight residential districts, a business district, and an administrative district. Phase two and three will then add other districts such as a green park double the size of New York City's central park, a 6.5 square mile entertainment district, and a business district with 20 skyscrapers. This city is expected to be completed around 2022.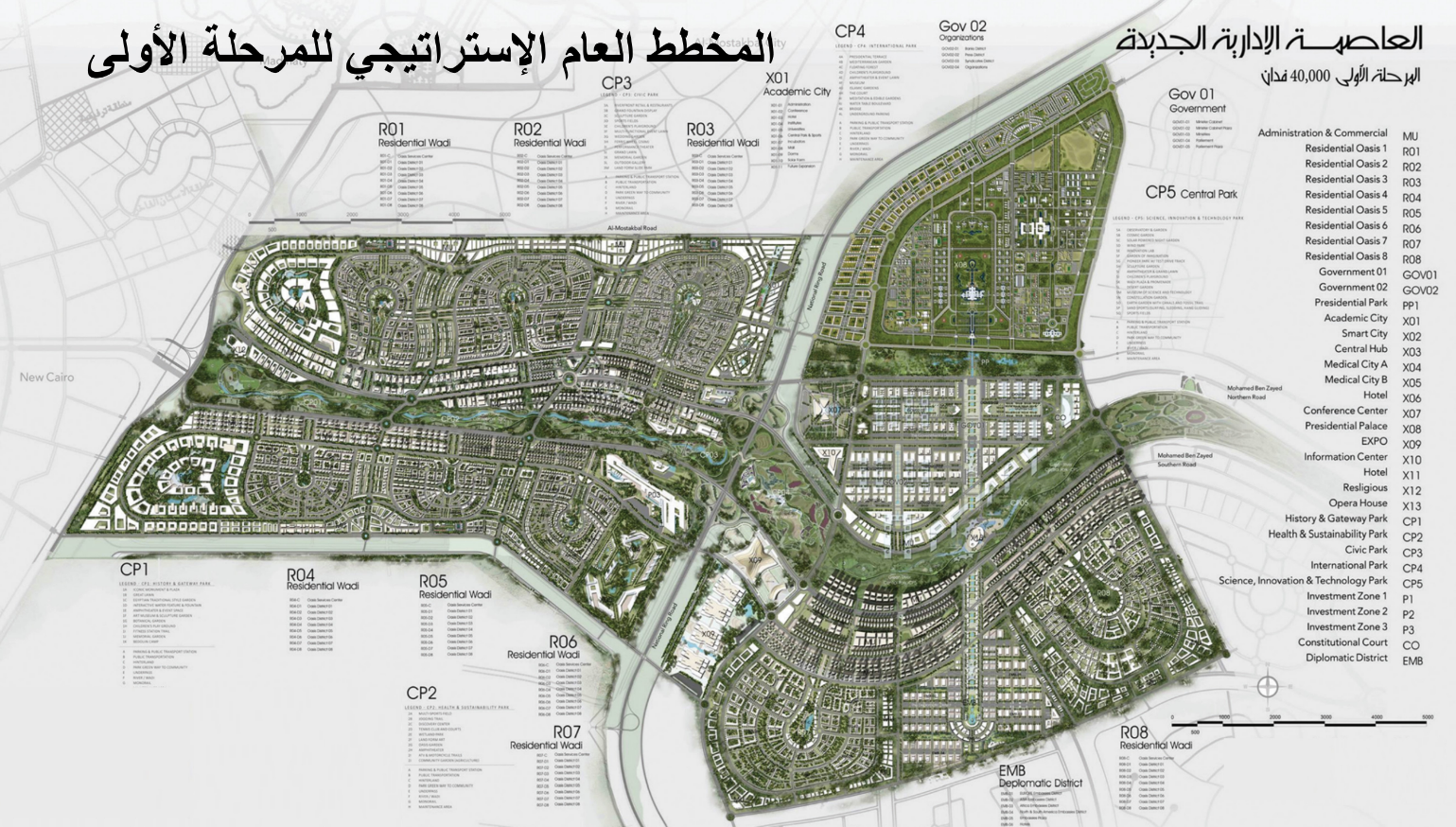 On the smart part, the city will utilize a cashless system for services, a smart traffic network, a unified digital infrastructure, and a massive recycling system. This new capital is developed with a smart city's strategic vision integrating its smart infrastructure to provide many services to citizens. Including smart monitoring of traffic congestion and accidents, smart utilities to reduce consumption and cost, smart buildings and energy management, a focus on renewable energy and using IoT to save power consumption, as well as "building optical-fiber infrastructure connecting every building using FTTX technology." FTTX, also called Fiber to the x, is the key method to drive next-generation access (NGA). It is a significant upgrade to the Broadband available by making a step-change in the service's speed quality. A 90-square-kilometers solar (35-square-miles) farm is also part of this plan. 
Now, imagine it is already the year 2022, and you are driving your electric car from Cairo with much excitement about visiting a friend who lives in this new smart city in Egypt. You cast a glance at your car's control panel and notice that the car is going to be out of power in 30 minutes. As you are worried about finding a charging spot, you have passed the smart city's toll gate. Immediately you noticed that your car starts to charging while driving on the highway, thanks to the solar panels built in the road that enables all electric vehicles to charge as they run. As the sensor detects your car, it automatically connects the car system to an AI program that controls the city's traffic and starts autopiloting the car. Autonomous vehicles have not yet available due to technical and legal difficulties. However, with a city's traffic system build with sensors, cameras, and other IoT-enabled devices that monitor traffic volume, movement, congestion, roadway conditions, and data about pedestrians and bicyclists, it is possible to safely autopilot your car. You have noticed that lots of autopiloting taxies are running on their way to pick up/ drop off guests, and citizens are so used to transport with such a shared taxi system that the city has much fewer parking lots compared to Cairo. All the spaces that are needed for parking have changed to parks. The city has amazed you with its excellent safety on the road and its abundant greenery coverage. You wonder what other places will it continue to surprise you.
Related Readings:
<How Smart Cities can help tackle climate change>
http://www.frontier-economics.com/uk/en/news-and-articles/articles/article-i4604-how-smart-cities-can-help-tackle-climate-change/#
<Egypt's building a new capital: Inside the smart city in the desert>
https://www.zdnet.com/article/egypts-building-a-new-capital-inside-the-smart-city-in-the-desert/
<Climate Change: How Do We Know?>
https://climate.nasa.gov/evidence/
<From smart meters to smart cities>
https://www.smart-energy.com/magazine-article/from-smart-meters-to-smart-cities